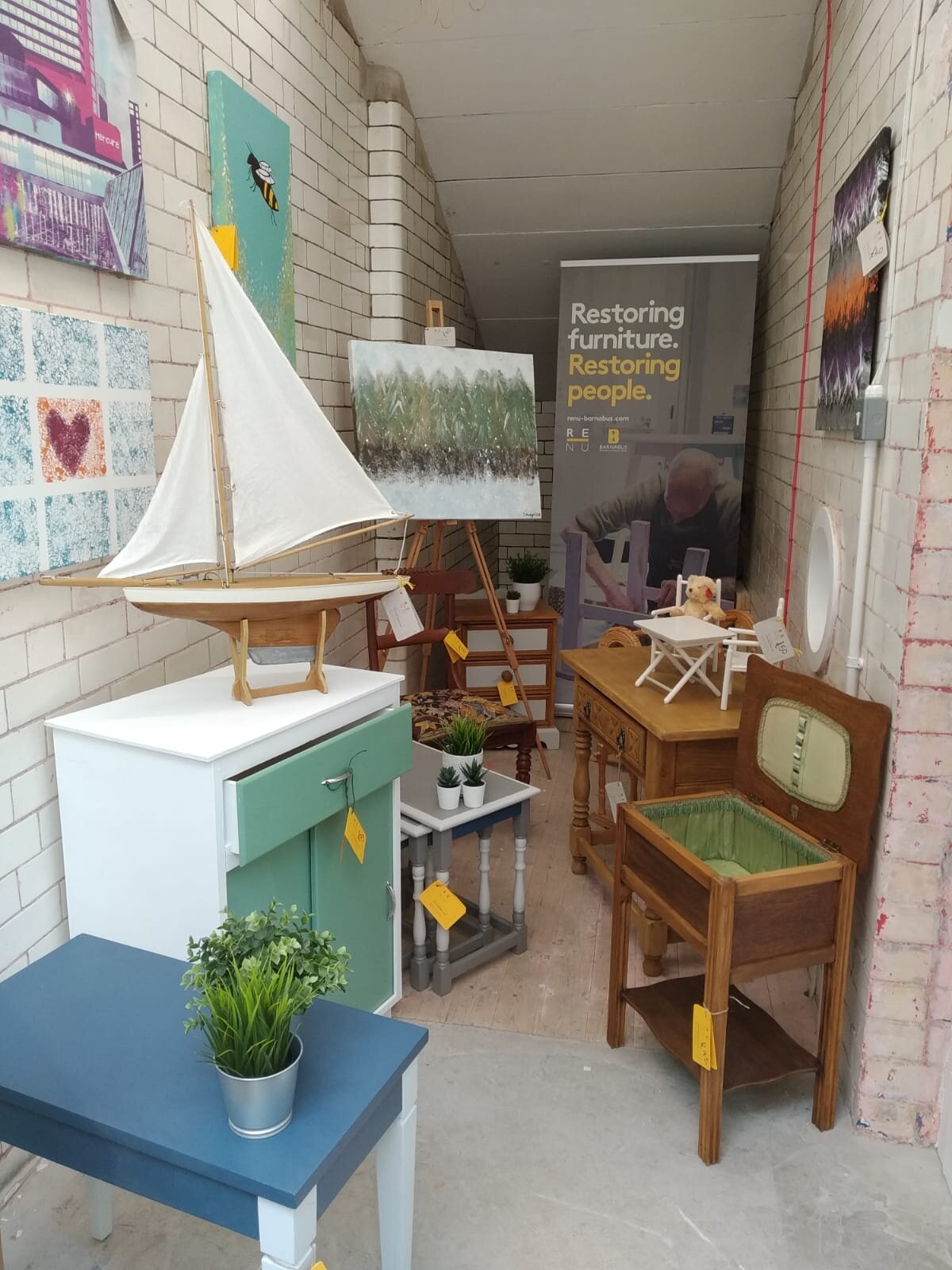 RENU returns to Dale Street
We have thoroughly enjoyed our time in Afflecks and we are very thankful to have had the opportunity to meet you all and talk about RENU and the work we do. All while showing off and having the opportunity to sell the amazing work our students have produced.Unfortunately we are unable to continue having the presence in Afflecks any more so our shop is now closed.
If you didn't get the chance to come down and see us we have a window display in the Nexus Art Café on Dale Street. If you are in the city centre why not pop along to check out some of the amazing artwork and furniture our students experiencing homelessness have produced. Or grab a coffee in one of the friendliest places in town.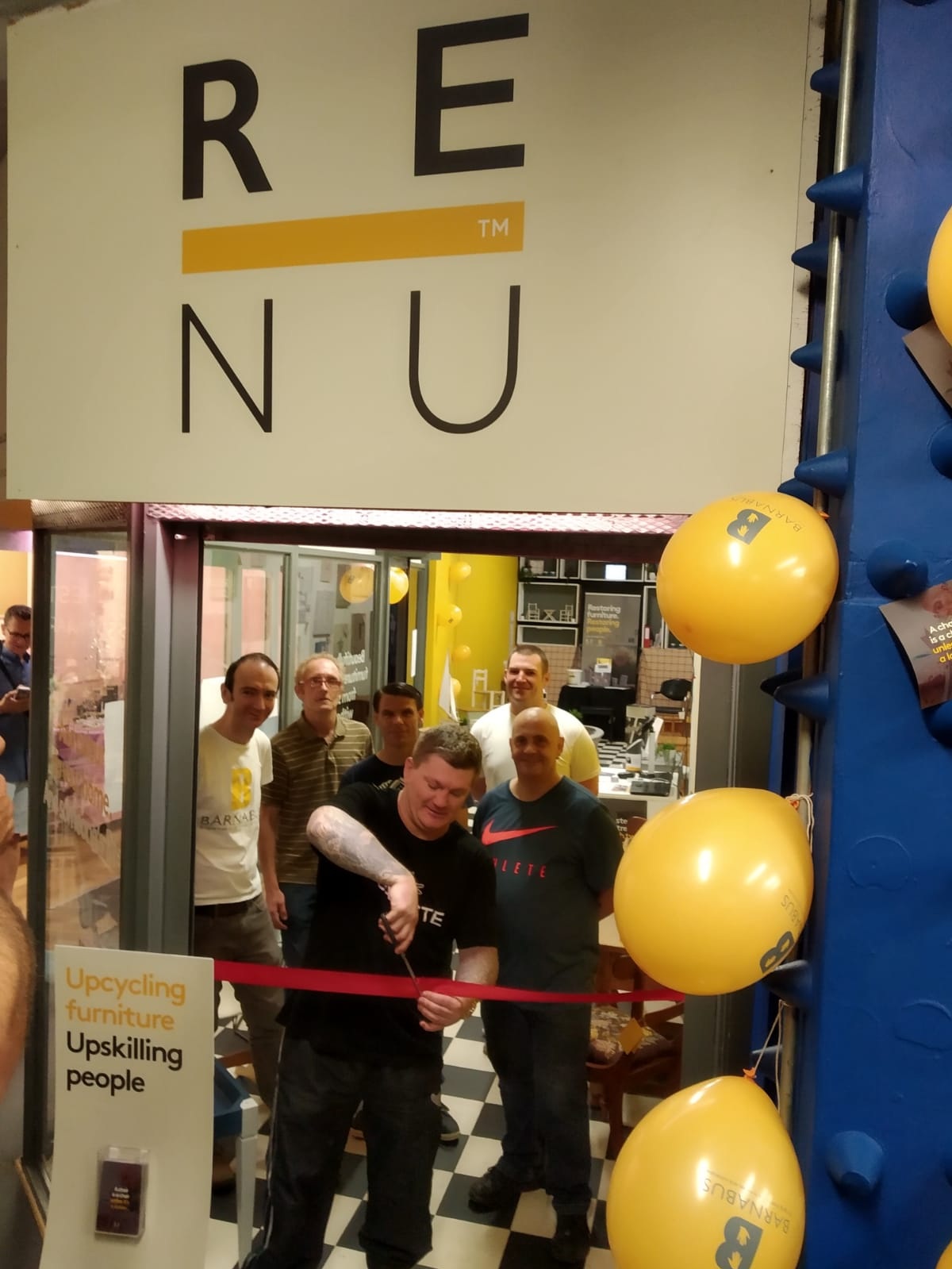 Ricky Hatton cuts the ribbon
This is the moment Ricky Hatton opened the RENU shop for business. Ricky has been a patron and great supporter of Barnabus for many years now, it was brilliant to have him come down and support us as we launched the RENU shop in Affleck's.
Neil Cornthwaite, head of operations at Barnabus, said "Tackling homelessness requires much more than giving someone a roof over their head, it's about giving them the skills and confidence to adjust to life off the streets. Here at Barnabus we have found RENU to be an important piece of the puzzle and it has had some great successes helping people back into work."
The RENU pop-up shop in Affleck's Palace can be found on the second floor just to the left of the Oldham Street staircase opposite the Soapy J Bathbomb shop.
RENU shop opens in Afflecks
Come and see our new RENU shop in Affleck's to buy some of the amazing furniture and artwork worked on by our friends who have experienced homelessness. Find us by coming into Afflecks via the Oldham Street entrance, we're on the Second floor just opposite Soapy J's. We're really excited to be in the iconic and legendary Afflecks right in the heart of the Northern Quarter. It is full to the brim of unusual and quirky shops and we think our RENU shop will be right at home.
Would you like a piece of furniture which is totally unique, with an amazing story behind it and where all the money from your purchase goes back into helping those who are experiencing homelessness? We think that this alone holds our furniture way above IKEA furniture, but there's more not only will you not have to construct it from a flatpack you also won't see the exact same piece of furniture at your friends house the week after you buy it.
We really hope to see you at Affleck's but if you can't make it our full range is available to purchase online. If you would like to support us in other ways we would love to hear from you neil@barnabusmanchester.co.uk
RENU makes headlines in Manchester
Mayor of GM Andy Burnham Visits the Workshop:
Our friend DN has completed his 10 weeks at Renu so it was a great surprise for him to receive his certificate of achievement from Mayor Andy Burnham during Andy's recent visit to The Message Enterprise Centre - we were delighted to show Andy our project and the positive impact it has on the lives of the students who attend.
Second Furniture Showcase at the Nexus Art Cafe starting from May
Nexus Art Cafe, 2 Dale Street, M1 1JW
We will again be exhibiting some of our beautifully restored furniture at the Nexus Art Cafe in the Northern Quarter throughout May. We are very happy to be back in The Nexus after our last showcase did so wonderfully,and we will be looking to show off some of our other brilliant pieces. The Nexus is a fantastic space which offers a non-for-profit cafe and art gallery: http://www.nexusartcafe.com/
Furniture Showcase at the Nexus Art Cafe throughout March
Nexus Art Cafe, 2 Dale Street, M1 1JW
We are exhibiting some of our beautifully restored furniture at the Nexus Art Cafe in the Northern Quarter, for the whole of March. The Nexus is a fantastic space which offers a non-for-profit cafe and art gallery and we are happy to be back after our last showcase did wonderfully.
All of the items on display and many more are available to purchase from our store, so come and grab a coffee and cake and look at what we've got to offer. Check out http://www.nexusartcafe.com/ for more details
Artwork Showcase at Ziferblat from February
Ziferblat, 1st Floor, 23 Edge Street, M4 1HW
Starting last month the wonderful team at the Edge St branch of Ziferblat have allowed us to showcase our collection of Paris-inspired artwork, ranging from £15 and upwards. Ziferblat are a global social experiment that run spaces in which everything is free except your time (8p per minute, a bargain!).
If you've got some free time head on down to grab a tea or coffee and take a look at some of our volunteers' amazing artwork at this incredibly interesting location. Check out https://www.ziferblatuk.co.uk/edge-street/ for more details
Upcycled Furniture Showcase Event September 22nd: 10.30am - 4.30pm
Manchester Craft and Design Centre, 17 Oak St, M4 5JD
free entry
ReNu is a Barnabus Furniture Up-cycling project for the homeless. Every item on sale at this event has been lovingly hand-crafted and restored by our students. When you buy from ReNu you're not just investing in a piece of furniture you are investing into the lives of the homeless people who made it.
We hope to see many of our supporters at the event - do let your friends know!
Chris Smalling Visits Renu
We had the privilege of welcoming Manchester United and England footballer Chris Smalling into our Renu furniture upcycling project in November. He came to visit the project and meet our friends who have experienced homelessness in Manchester. Chris really enjoyed his time with us, he even commented: "The furniture here is so good my wife will want to buy some for our house!"
Chris' visit really boosted the morale of our friends working in the workshop and was made really special when we realised we had been donated a Manchester United display cabinet to be restored!
Canvases are now available in our online shop or at our Renu workshop
Hollyoaks Star Jazmine Franks Visits Renu:
Jazmine commented: "It was a fantastic day I thoroughly enjoyed myself and it was great to see our friends who experience homelessness learning new skills and getting ready to go back to work."
If you want to come and join our team and serve alongside Jazmine and our volunteer team and help us #endhomelessnessmcr then email volunteer@barnabusmanchester.co.uk to find out more.
Latest Commission completed:
This beautiful upcycled table has just been completed for one of our customers here at The Message Enterprise Centre by our Friend who has expereinced Homelessness TM - we are really rather proud of it:
Renu works with Heartsmart to make Boris:
HeartSmart is a primary school resource that builds resilience, emotional intelligence and active empathy in the hearts of children. Boris, a recycled robot, is the central character. In the story Boris was made by Amber and Josh who love him and invite him to live with them. However, Boris still hears the voice of the Scrapman telling him he was made from rubbish therefore he is rubbish and calling him back to the scrapyard.
Through the HeartSmart principles, Boris is learning what it is to love and be loved, the power of forgiveness, to be true to himself, to always have hope and most importantly to tune out of the voice of lies and into the voice of truth and love.
The Boris made by ReNu will be used to deliver assemblies to primary aged children in schools across the UK to introduce them to HeartSmart.
"Working with Heartsmart to make Boris was a perfect fit for us", commented Tina Renu Course Tutor, " taking other people's rubbish and recycling it in to something beautiful is what we do here at Renu. In addition the Heartsmart principles tie in with our ethos of restoring people (not just furniture)."
To find out more about Heartsmart chekc out www.heartsmartprimary.com